We bring the best out of Zoho
Best Zoho Consulting & Implementation Partner that you can trust !!
Zoho Consulting
As a Zoho certified consultant, we promise you the best solutions that will help businesses grow faster and make delighted customers. Feel free to reach out to us with your workflow requirement, our experts would give you the right Zoho solutions that match your needs.
Zoho Implementation
Being a certified Zoho partner, our experienced consultants bring the right solution in place by going through repeated cycles of QA to ensure the best that fits your business needs and overcome the challenges.
Zoho Development
We do customizations to all Zoho solutions that suit your business automation needs more effectively in the readily available Zoho templates and help you attain reduced turnaround time and give significant growth & great customer experience.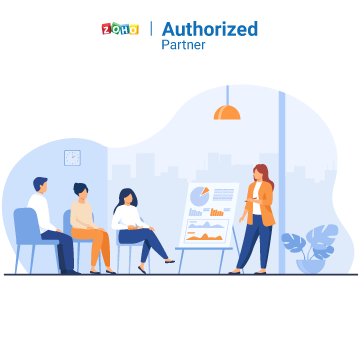 Zoho Training
Our Zoho consultants provide a 360° approach to training on all Zoho solutions at all levels in the organization. We promise the best knowledge in products to make sure that you're utilizing the best out of them.
Zoho Integration
We integrate any third-party application with seamless data migration from your existing application to the new Zoho solution of your choice. We take care of the rest and ensure that your business operates efficiently and effectively without any glitches.
Zoho Support and maintenance
DigiHut ensures hassle-free support and maintenance structure with our customers and we won't let you down under any circumstances. We're just a ring away from you and happy to help.
Still, have queries? We've got you covered